Carla, owner of
www.scrap-a-latte.net
, gave us a challenge. Talk about our Mother's day. So, here it goes:
We got up to a beautiful day. The kids made me beautiful cards and cleaned the house for me. I got to scrap a bit and finished my gift album for my Mother-in-Law, which was my main goal for the day.
We finally got moving and went to drop off the album, and hung out for a bit with Karen and Lee, chatting and stuff, enjoying an hour or so on their backporch. Afterwards, we all went to Cord Camera (they have a small scrapbook section), to pick up page protector refills for my album and, lucky me, they had the Junkitz Extreme Boy paper that I've been dying to get my hands on!!! Woohoo!!!
Anyway, after that, we went to the grocery store, went home and Brian made my favorite dish...Arroz Con Pollo! YUMMY!!! He's the best!!!
Here was the major unplanned event for the day: During dinner making, the kids played out back with some of the neighborhood kids, who brought over a kitten. They had no home for him and were going to let him just run free. I couldn't deal with that. I love animals way too much and hated the idea of this defenseless little kitten running around, trying to survive. So, "Lucky" (as Dakota and Haleigh named him) is in our home, until we hopefully find a permanent home for him!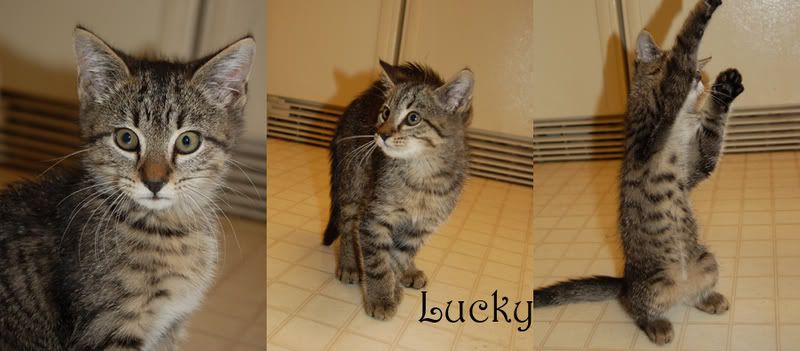 So, overall, it was a great day! And, to top it off, I won a prize at scrap-a-latte!!! Just topped my day off!!!